Beauty Edit Mayfair
Our Story
Beauty Edit Mayfair is the brainchild of celebrity brow expert, Sherrille Riley, an industry standard, meticulously researched and rigorously tested collection of brow enhancing pencils, brushes and a setting gel which cater to every skin and hair tone.

The collection brings Riley's in-salon expertise to clients helping them to maintain and achievesalon brows at home.

Frustrated at not being able to find colours which were exacting enough, Riley has created abespoke range of pure, highly pigmented brow colours, a collection which has revolutionised brow colours by producing natural looking pure shades which are void of inconsistent undertones.

"I had often found that brunette shades had undertones of orange while blonde shades proved to be too ashy, "explains Riley. "It made me realise that what was currently on offer was not nearly comprehensive enough."

It was while working at a Mayfair salon, next to hair colourists that Riley was able to devise exact colour matches. I would explain the shades I needed, and the colourists would advise on how to achieve them. Perfecting the right brow shape she realised was as important as achieving the right colour.

"When you get true colour with no undertones that suits all skin types."

Working with formulationists in Germany, Riley was able to create natural products with the right consistency and texture producing results which ensure brows look groomed yet effortless.
"
Define what's naturally yours

"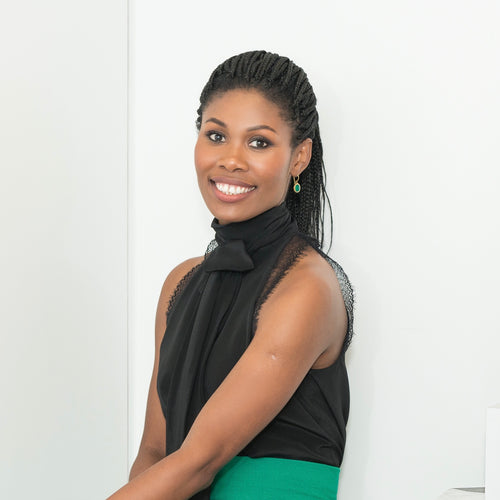 Beauty Edit Mayfair products are formulated with an exclusive conditioning complex of castor oil, pro vitamin B5 and Vitamin E that promotes the health of hair and encourages growth for stronger, fuller brows.
The collection comprises ten products, and the highlighters and brow pencils come in three shades: Riley has edited this to a blonde, a brunette, and a very dark chocolate brown which is suitable for Middle Eastern, Indian, and Black clients.
In adherence with the Nails & Brows' values, every effort has been made to ensure that Beauty Edit Mayfair's luxury packaging is eco-friendly and sustainable. Growing up in Jamaica, Riley witnessed first-hand the devastating impact of mindless consumerism.
"From the beginning, I wanted to create products that were as natural as possible. It's often thought that natural isn't as effective or perhaps pigmented enough, but I wanted to prove that you could be natural, effective and still be mindful of the world we live in."